Your Research Poster, Printed For Less!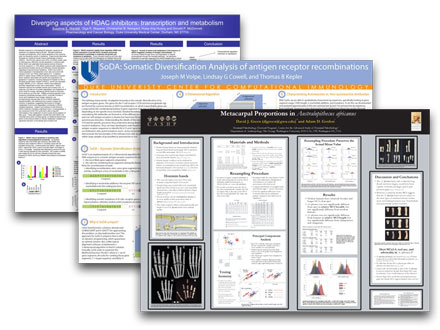 "The poster is very nice. I like it very much and I will definitely tell my friends about the good quality, price and efficiency provided by phdposters.com."
Y.T., Duke University
"Thank you again for printing them so they were ready the next day! They look great! I will definitely be recommending your printing service to others!"
C.F., University of Colorado Denver
"A flawless job. And efficient. I'm very happy about this because I think Kinko's is a rip off. Thanks for the work. I will definitely spread the word."
J.B., Brigham & Women's Hospital
Start your order now »
The Lowest Prices

We have the industry's lowest prices and highest quality for both premium semi-gloss paper and foldable satin fabric posters.
Easy Templates

Not sure how to start? We offer simple PowerPoint templates in a variety of sizes that you can use as a starting point to design your poster.
Step-By-Step Instructions

All the tips and tricks you need for designing a winning poster in PowerPoint or Illustrator.