Your Research Poster, Printed For Less!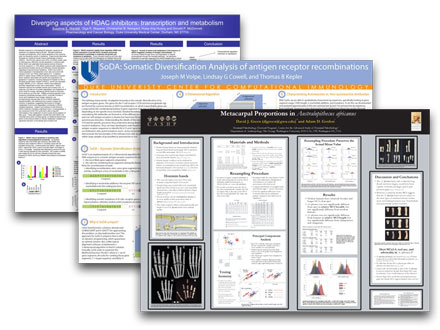 "Everything is great, thanks! My whole department is pretty loyal to you guys already, and now I see why. You'll be my go-to from here on out."
J.D., Emory University
"They look fantastic. Very happy, and yes, I'll spread the word... I got a recommendation from a doc here on campus to use phdposters and the service and product are better than I expected."
K.S., UNC Chapel Hill
"Everything is great. I wish I knew about you guys earlier, very convenient and cheaper. Will absolutely recommend you guys to everyone I know."
M.S., Duke University
Start your order now »
The Lowest Prices

We have the industry's lowest prices and highest quality for both premium semi-gloss paper and foldable satin fabric posters.
Easy Templates

Not sure how to start? We offer simple PowerPoint templates in a variety of sizes that you can use as a starting point to design your poster.
Step-By-Step Instructions

All the tips and tricks you need for designing a winning poster in PowerPoint or Illustrator.